Measure your job applicants, employees, team members, or association members skill levels.
Assessment Studio provides a versatile set of tools to execute skills assessments.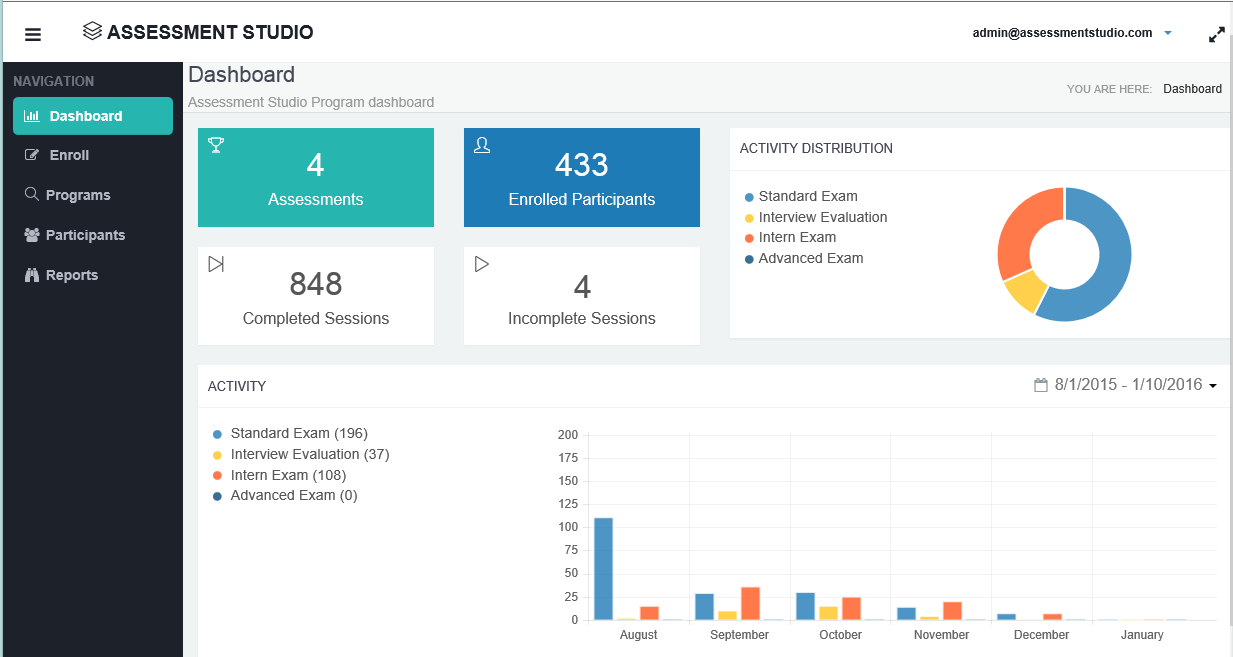 Features
Participant Enrollment
Simple participant enrollment.
Participants may complete the assessment in a proctored environment or at home on a personal computer or mobile device.
Assessments may be completed multiple times to establish trends that will improve your visibility to the clients progress.
Participant Dashboard
Participant results are summarized in an informative visual dashboard.
Summary graph of each assessment showing trends of each question.
Detail graph for each question showing trends over time.
Objective summaries for assessments that have objectives defined.
Organization Dashboard
Informational view of your utilization of the Assessment Studio application.
Stats for each configured assessment
Monthly stats of participant usage.
Item analysis reports.
Topic summary reports
Assessments
Random selection of assessment items.
Shuffle items.
Over 20 different question types.
Timed assessments.
Assessment programs, define a series of assessments.
Automatic retries
Real time scoring and grading.
Restart assessments
360° Assessments
Associate participants to teams
Drag-n-drop assignment of raters
Name and gender templated assessment questions
Assign assessment by role.
Aggregated reports
Item bank analysis
Item P-value by groups
Topic analysis
Category/Property analysis
Answer Distribution
Export for advanced analysis
back to top
Pricing Options
Easy Start
Exam Fee's
$40 per exam.
no minimum exams per month
Setup & Authoring
$250 per assessment
$5.00 per question, after first 50 items.
$100 credit applied to first 3 months usage fee's.
Optimized
Exam Fee's
$35 per exam.
Minimum exams per month: 20
Setup & Authoring
Basic setup and authoring is free!!!
$5.00 per question, after first 150 items.
360° Assessments
Multiple assessments per report.
Report Fee's
Setup & Authoring
Price based on assessment(s)
Customizations
Estimates for advanced branding and custom assessments are provided on request.
back to top
Contact Information
Phone:

(573) 268-7380

Sales:

Support:

Address:

Enginet Technologies, LLC
503 E. Nifong
Columbia, MO 65201
back to top